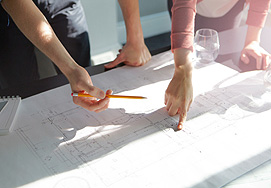 The objective of Fubang Group is to achieve sustainable, healthy and stable development through coordination between industrial management and capital operation, improvement of its general competitiveness and resistance against risks as well as adjustment of its economic structure and transformation of development methods. To this end, the Group, guided by the Outlook of Scientific Development and the national policies in the "Twelfth Five-year Plan" together with its aim of constructing century-old Fubang, will focus on accelerating its economic transition, making breakthroughs in new industries and propelling the brand economy with the driving force from reform and innovation, corporation culture and training of innovative management team.
General development objectives: Fubang's economic scale will reach RMB 31 billion by 2017, including RMB 17 billion from industrial and mineral fields and RMB 14 billion from commercial and logistics services, and its value of export delivery will achieve RMB 4.7 billion; it will also endeavor to bring up 2 enterprises whose sales exceeds RMB 5 billion, 5 enterprises over RMB 2 billion and another 5 over RMB 1 billion by developing a number of superior industrial and corporation groups with core competitiveness; it will give full priority to the compound real estate, energy mining, industrial manufacturing and modern services.
Plans: the Group will mainly implement 6 plans, including Human Resources Development Plan, Brand Strategy Deepen Plan, Modern Management Plan, Energy Saving and Environmental Protection Plan, Quality Strategy Deepen Plan and Enterprise Culture Building and Development Plan. The Group will create 3 to 5 leading manufacturing and business service bases through self cultivation, joint stock & cooperation and acquisition, etc; the Group will proactively promote the economic transition and upgrade, enhance its brand strategy and strengthen the core industries through independent innovation and introduction of technologies as well as setting up R&D foundation; the Group will also seek the 2nd breakthrough in capital operation through utilizing the industries it currently owns and fostering 1 or 2 qualified enterprises to get listed; furthermore, to lay a solid foundation for its "century-old Fubang", the Group will carry out and continue to improve the evaluation system for excellent operators, scientific employees and managers by adopting the incentive mechanism.