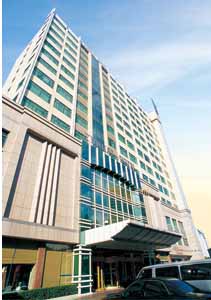 Ningbo Fubang (Holdings) Limited (hereinafter referred to as Fubang Group), formerly known as Ningbo Light Industry Holding (Group) Co., Ltd. was established in April 2002, following Ningbo Municipal Government¡¯s general planning to intensively promote the reform of state-owned enterprises. Originally the state-holding shares accounted for 25% of its total capital stock while the rest 75% was held by the top managers, but it officially became a private stock enterprise with the withdrawal of the state-owned stock in 2008. Currently, after years of development, Fubang Group has developed into a comprehensive business group dominated by industry while also integrating the fields of business trade, real estate, energy, scientific research, hotel services, financial investment, culture and sports, etc.
Fubang Group owns 58 wholly-owned, controlling and sharing enterprises, including a domestic A-share listed company. In possession of a total asset of RMB 38.05 billion and 15,000 employees, the Group accomplished its sales revenue of RMB 30.28 billion and profit of RMB 952 million in 2015. As its economic strength is rapidly growing, the Group has been successively listed into the ¡°China's Top 500 Enterprises¡± for 14 years, ranked among ¡°China¡¯s Top 500 Private Enterprises¡±, and awarded ¡°Zhejiang Provincial 146 Leading Enterprises¡±, ¡°Zhejiang ¡¯s Top 100 Enterprises¡±, ¡°Zhejiang¡¯s Top 100 Taxpayer Enterprises¡± and ¡°Ningbo Municipal Top 50 Taxpayer Enterprises¡±.
With the strategy of ¡°progressing mainly based on industrial manufacturing while being supported by financial investment and commercial real estate and powered by scientific innovation¡± and the objective of ¡°building century-old Fubang¡±, the Group, after constant efforts in structure adjustment and industrial integration, has developed a diverse development pattern including industrial manufacturing, minerals, commercial services, invested real estate and sports culture.
In term of its industry, Fubang has expanded to various industrial sectors, including basic raw material, energy, household appliances, metal ware and auto parts, etc from the single light industry. Owning many famous brands, such as Paerdeer, Amico, Xinle and Yujiang, it occupies considerably high market shares both at home and abroad in its leading products such as consumer battery, nylon chip, valve heating equipment, aluminum strip, washing machines, rubber transition belt and hardware locks. Moreover, after the optimization and adjustment of its industrial structure, the Group has established 6 large industrial parks that cost an overall investment of RMB 10 billion and cover an area of 2,300 mus: Hengrun High-Tech Industrial Park, Fubang Aluminum Industrial Park, Fubang Furniture Industrial Park, Sonluk Battery Technology Park, Amico Industrial Park, Fubang Dadi Industrial Park, accelerating the fostering of its scale economy and intensive development.
As Fubang¡¯s energy & mineral industry is supported by coal mines in Xinjiang, the sustainable development of its resources industry is guaranteed.
Fubang¡¯s commercial services involve trade, logistics, e-commerce, business plaza, hotel services and so on. All of its four hotels¡ªNingbo Hotel, Yunhai Hotel, Fortunebond Hotel and Fubang Sunhu Hotel are outstanding in Ningbo¡¯s hotel services. Fubang Century Plaza, located in the core of Beilun CBD, provides a new and integrated business center in Beilun for shopping, entertainment, leisure and experience. Besides, Fubang logistics, import & export and trade of commodities lay a solid foundation in the field of traditional trade services. For e-commerce, the silver trade platform of Fubang Precious Metal Company and the cross-border shopping platform of Ningbo Fubang E-Commerce Development Co. Ltd blaze a new world for its business services.
Meanwhile, Fubang¡¯s invested real estate, as an indispensable part of the Group strategically, is making large strides with its projects covering Ningbo, Shenyang, Chengdu and other cities, among which Fubang Shenyang Yipin real estate and Fubang Sunhu Leisure development take priority. In the field of financial investment, Fubang Group not only has one A-share listed company¡ªits controlling ¡°Ningbo Fubang¡± (listed on Shanghai Stock Exchange), but also is a key shareholder of ¡°Bank Of Ningbo¡±.
Furthermore, Fubang¡¯s culture and sports, mainly including Fubang Auction Company and Bayi Fubang (Ningbo) Men¡¯s Basketball Club, play a vital role to lift the Group¡¯s soft power. Especially the Club which was established in 2006 has turned into a name card of Ningbo.